Whether it is daily drinking water, or domestic water, a good water environment is the basic element to ensure the normal life of residents and maintain sustainable social development. Nowadays, with the improvement of drinking water standards, people's requirements for drinking water storage tanks are getting higher and higher.
Drinking water includes clean natural spring water, well water, river water and lake water, but also includes processed mineral water, pure water, etc.. Processed drinking water is available in the form of bottled water, barrel water, piped direct drinking water, etc. To ensure the safety of drinking water, it is necessary to use non-toxic and harmless, safe and reliable drinking water storage tanks. Ordinary drinking water storage tanks do not meet the standards of safe drinking water storage, and are not convenient to install and relocate due to their large size, which is troublesome for many areas. To overcome these problems, our company independently developed and produced porcelain enamel assembly tanks as drinking water storage tanks.
The enameled tank is assembled by enameled steel plate, hoop, self-locking bolt, sealant and other accessories on site. After the enameled steel plate is fired at 820°-930°, the enamel will be fused with the surface of the steel plate to form a solid layer of chemically inert inorganic coating. Such a coating combines the outstanding chemical and physical resistance of porcelain enamel with the super-fine surface properties of the enamel structure, and has the anti-corrosion properties that make it the preferred storage tank for drinking water with a service life of ≥ 30 years. For the field of drinking water and to ensure the safety of drinking water, our company has also developed a special enamel process for the storage of drinking water to ensure the safety of drinking water.
Moreover, our company has a professional enamel R&D department, which has been engaged in enamel R&D and production for nearly 30 years, and can develop customized enamel formulations according to customers' requirements for tank storage media. In order to meet the requirements of different regions for drinking water storage tanks, we use self-developed enamel formulas as raw materials to ensure the safety of drinking water.
In addition to the superior performance, another advantage of enamel assembled tanks suitable as drinking water storage tanks is the ease of installation. We do this by standardizing the production of enameled steel plates in our factory, which are packaged and transported to the project site for assembly. The enameled steel plates are bolted together, eliminating the need for large installation equipment or extensive labor, making tank installation, disassembly, relocation and relocation easier and faster.
At present, our company designs and produces porcelain-lined assembly tanks that are exported to Costa Rica, Australia, Canada, Panama, the United States and other countries, and are widely popular. Because of the advantages of short construction period, low cost, superior corrosion resistance, easy installation, expandable tank volume, customizable tank color, etc., the enameled tanks are used in drinking water projects, but also in biogas projects, breeding sewage treatment, industrial wastewater treatment, waste leachate treatment, kitchen waste treatment, municipal sewage treatment, etc.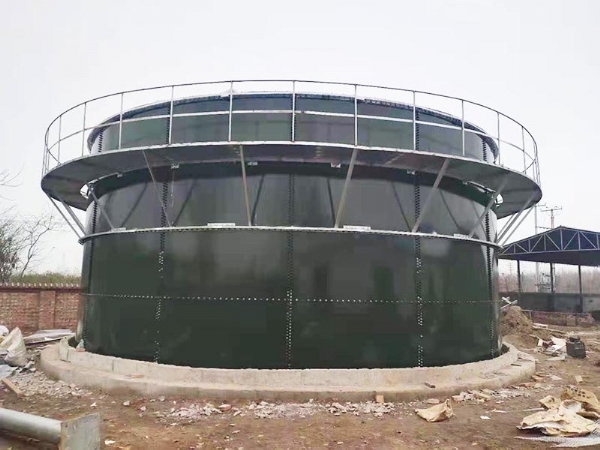 ---
Post time: Jun-16-2022